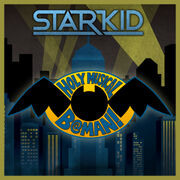 Holy Musical B@man! is the fifth original online musical released by Team StarKid. The show is a retelling of the story of Batman, a comic book character created by DC Comics.
HMB! was written and directed by Matt Lang and Nick Lang, with music and lyrics by Nick Gage and additional music by Scott Lamps. It features dance choreography by Katie Spelman, set design by Corey Lubowich, costume design by June Saito, lighting design by Sarah Petty and sound design by Mark Swiderski.
In March, StarKid presented the show completely free of charge in Chicago at the Hoover-Leppen Theatre in the Center on Halsted. There were eight performances in total, with four preview shows.
The recorded show premiered on YouTube on April 13th, 2012. A two-track album was released the same day for free download on Bandcamp, while the rest of the show's songs were released on the "That's What I Call StarKid! Volume 2" album on Bandcamp, iTunes and Amazon.com.
Chilly Willy

Barack Obama

Mobster

Superman/Clark Kent

Evil Huckleberry Finn

Aqua Man

Joe Chill

Alfred/Lucius Fox/O'Malley/Qwang Li/Spiderman

Gangster

Jim Povolo

Hawkman

Joe

Photoshop Downloader

Pizza Guy

Black Canary

Gangster

The Flash

Police Chief O'Hara

Thomas Wayne

Mr. Mxyzptlk

Captain Marvel

T.G.I. Friday's Worker

Rachel Dawes

Hostage

Chase Meridian

Wonder Woman

Zatanna

Martha Wayne

Evil King Arthur

Green Arrow

Narrator

Mobster

Construction Worker

Gob

Egghead

Nico Ager

Evil Sherlock Holmes

Sluggers

Citizen

Storekeeper

Plastic Man
Additional
Edit
External Links
Edit
Watch Holy Musical B@man! on Youtube
Watch the trailer for Holy Musical B@man! on YouTube
Ad blocker interference detected!
Wikia is a free-to-use site that makes money from advertising. We have a modified experience for viewers using ad blockers

Wikia is not accessible if you've made further modifications. Remove the custom ad blocker rule(s) and the page will load as expected.