Joseph (Joe) Walker is the sexiest member of Starkid. He was born 6th February,1987 in New York City.
He is probably one of the greatest actors of his generation being best friend with Darren Criss (Glee, A Very Potter Musical). They have done karaoke together and they are bloody awesome. DID YOU GET MY TEXT?!
Joe Walker is freaking amazing!!!!!! He is beautiful inside and out, when he acts, the whole world stops spinning to watch his many perfections. He can play almost any role possible, such as Voldemort, Dick, Umbridge, Commander Up and his best role yet...Bruce Man, I mean Bat Wayne. @%#!!!!!
When Joe Walker was born he was brought down from the heavens to change the world with his magnificent supermegafoxyawesomehottness, acting, dancing, voice talents, and singing. He is a glorious role model for us all and he never forgets his character whilst he is absorbed in his beautiful acting.
Walker also starred in a YouTube webseries with Joey Richter called Tasty Tests promoting Red Vines.
He also has a starring role in the new Mountain Dew commercial, which also features Joe Moses.
His work includes portraying:
(Rabid fangirls... They're everywhere... Save yourselves from their exploding ovaries...) 

JOE WALKER IS HAWT <3 xD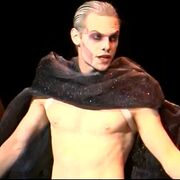 When Joe's portrayal of Lord Voldemort rules the world he will have goblins, and werewolves, and giants, and thestral, a fleet of dementors, and all his Death Eaters, whilst his partner (aka, lover) Quirrell, portrayed by Brian Rosenthal, will plant flowers and have Jane Austen novels.
The part of Dick was originally going to be portrayed by Darren Criss, but due to his commitments to popular television show Eastwick at the time, he was unable to play the part in the stage production. Therefore, the amazing, wonderful and supermegafoxyawesomehot Joe was chosen for the part and of course he played it brilliantly. His great preformance made us all fall in love with...um... well... a dick.
Dolores Umbridge lives on a diet of protein shakes, falcon eggs and rocks. She is portrayed wonderfully by the magnificent Joe Walker. She has a brief relationship with Professor Dumbledore who is portrayed by Dylan Saunders. And if you don't do what she says she will rip your perky little boobies off. Or if you don't get her texts.
Joe played Up who was a commander during the robot wars where he met Taz, who is portrayed by Lauren Lopez . Up and Taz have a most interesting relationship. Up is a tough son of a @$!#% with some self confidence issues.
Joe is the most amazing and incredible Batman the world has ever seen. He completely captures the lonely life of his superhero and his longing for a friend. When Robin and him become bros, he shows what a loyal and wonderful friend Batman can and will eventually be to all. This role is arguably one of his best.
This is Joe's first tv role!!!!! He participated is two commercials for the drink: 'Save the Cat' and 'Can Fishing'. In 'Save the Cat' a building catches on fire and a poor little kitty cat and a mountan dew are stuck inside. Joe bravely and gorgeously darts into the building and manages to rescue both of the helpless victims, and everyone is happy. In 'Can Fishing' They have completely run out of Mountain Dew but the guy across the street has some. Knocking and asking for it is way too mainstream so the trio decide to get out a fishing rod and go fishin'. Unfortunately the guy figures it out and plays a trick on Joe that involves a dog, a ball, some stairs, Joe Walker being pulled along by a dog and an awesome catch. Joe Moses is also in both commercials.
In Twisted Joe portrays Achmed, the considerably handsome tiger fucker.