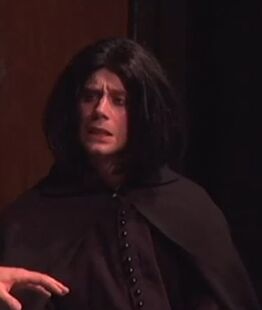 Severus Snape is a double agent trusted by both Voldemort and Dumbledore. He appeared in both A Very Potter Musical and A Very Potter Sequel.
In Harry's first year that was shown in A Very Potter Sequel, Snape was constantly arguing with Remus Lupin. Remus had a history of bullying Snape with his friends Sirius Black and James Potter when they were children. He is constantly being called a "Butt trumpet" by Remus.
In Harry's second year he sacraficed himself to save Harry. He ultimately died when he took a poisonous coral snake to the wiener. He is played by Joe Moses .
Ad blocker interference detected!
Wikia is a free-to-use site that makes money from advertising. We have a modified experience for viewers using ad blockers

Wikia is not accessible if you've made further modifications. Remove the custom ad blocker rule(s) and the page will load as expected.